DESCRIPTION:
A cute addition to your collection is this Penguin Charm / Pendant, which also symbolise loyalty. This is in solid gold and set with black coloured synthetic gemstones.
*Choose spring ring or loop and wear it as part of your favourite. Select chains here.
* Estimated gold weight will vary no more than +/-15%. MRP will remain the same.
Foro Advantage
Foro is a direct-to-consumer brand which means you pay much lesser than other retailers for high-quality jewellery and international designs. We manufacture and sell via our own online shopping platform hence you save on the retail-level mark-ups on jewellery.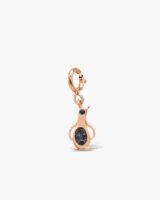 Fast & Secure Shipping
15 Days Returns, 100% Refund
Lifetime Exchange & Buy Back
BIS Hallmarked Gold
SGL Certified Diamonds
What Our Customers Say
rasika dhumal
September 20, 2022.
Beyond expectation! absolutely in love with the design and finesse of this ring!
DEEPIKA SINGH
September 13, 2022.
jharna lalwani
September 5, 2022.
I've been buying beautiful delicate jewellery of Foro for a while now. The fact that I am a returning customer says it all about the product quality, service and pricing of Foro. Their designs are elegant, unique and minimalistic. Already have my eyes set on the next buy. ❤️
Geeta Sheth
August 27, 2022.
Very reliable and personalised. Pictures completely represent the actual products!
jayasree benny
August 27, 2022.
Preetha Dasgupta
August 27, 2022.
Beautiful fine jewellery. Excellent customer support from Bindu. Loved the hospitality. Will come back again!!
harman singh harman
August 25, 2022.
Loved the product
kishore C
August 23, 2022.
I got these 2 tiny ear studs for myself and they arrived soon in a week with a good package hope they launch fashion accessories for men collection too