Multicolour Gemstone Disc Evil eye Necklace
DESCRIPTION:
A perfect alternative to the traditional evil eye. This Multicolour Gemstone Disc Evil Eye Necklace features meticulously selected coloured synthetic gemstones, micro set intrinsically in the concave disc. This gold necklace has dangling bezel set synthetic gemstones hanging from the cable chain at intervals. The rear side of the pendant has intricate filigree gold detailing. The necklace is secured by a spring ring which allows you to adjust the length by 1" + or – the ordered size. Can choose similar bracelet too from our collection.
Foro Advantage
Foro is a direct-to-consumer brand which means you pay much lesser than other retailers for high-quality jewellery and international designs. We manufacture and sell via our own online shopping platform hence you save on the retail-level mark-ups on jewellery.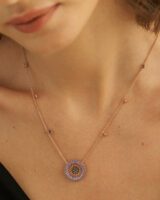 Fast & Secure Shipping
15 Days Returns, 100% Refund
Lifetime Exchange & Buy Back
BIS Hallmarked Gold
SGL Certified Diamonds
What Our Customers Say
smriti singh
March 13, 2023.
The products are actually eye catchy and worth a steal. The delivery is soo hassle free you don't have to follow at all. The add on is the package which is very pretty. :) all hearts to FORO
Mahavir Parekh
March 13, 2023.
ambika mittal
March 11, 2023.
Their packaging is really nice and the product quality is also very good. I am happy with my purchase.
Prithvi Suraj
March 4, 2023.
Excellent piece of art from foro.... Good finishing and good locking.... Loved it.... I use as first and second stud too...... Thank you
lakshmi Ramachandra
February 26, 2023.
Rasika Thawale
February 25, 2023.
Decided to gift myself a wide ring and a diamond band. Was contemplating on buying from foro for quite sometime, was a bit apprehensive as it was expensive. Decided to finally order the products, and guess what I'm not regretting. Satisfied with the quality and the style. Shine and finish is flawless even after wearing it everyday for past 2 weeks now. Planning to order more of such exquisite pieces soon.
I got the most amazing dream ring. I was a bit sceptical about buying gold and diamonds online but it turned out to be really worth it. Loved the product and customer service. And not to forget, the PACKAGING; loved each and every second opening it. Foro has got the best team.
Helena Saji
February 11, 2023.
Really happy with the earrings I've purchased. Absolutely loved the packaging as well!